Aston Martin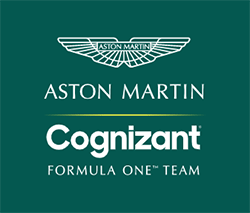 Based in: Silverstone, UK
Founded: 1914 (active 1959-1960, since 2021)

Website: www.astonmartin.com

Principal: David Brown (1959-1960), Otmar Szafnauer (2021)
Owner: Lawrence Stroll (2021)
Technical Director: Andrew Green (2021)
Founder Lionel Martin built sports cars for the Aston Clinton hill-climb (hence the name) after World War 1. The company changed ownership many times before David Brown bought the factory in 1947.
Based at Feltham, the team re-entered Grand Prix racing in 1959 with the project delayed due to the company's sports car race successes. The team struggled both in 1959 and 1960, resulting in the departure of Aston Martin out of Formula One.
It was only in 2008 that Aston Martin became visible again in Formula One. Following a number of failed return attempts under David Richards in 2008 and 2010, Aston Martin served as a sponsor of Red Bull Racing from 2016 to 2020, and as the title sponsor in the last three years of this 5-year span.
Return in 2021
Aston Martin returned to Formula One as team name for the 2021 season. After Lawrence Stroll, owner of Racing Point UK Limited, the company that ran Racing Point F1 Team bought a 16.7% stake in Aston Martin, he renamed his company to "AMG GP Limited" and rebranded the F1 team to "Aston Martin F1 Team".
The F1 team itself remained largely unchanged from Racing Point, with no major personnel changes, and their partnership with Mercedes for an engine and gearbox supply going on without change. A new factory, like the old one also near Silverstone Circuit was being built but not ready to be used by the time of the rebranding to Aston Martin. The switch of buildings is scheduled to happen by 2022.
Cars