Connaught Engineering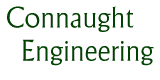 Based in: Guilford
Founded: 1948 (active 1953-1959)

Principal: Rodney Clarke, Mike Oliver
This little British constructor came really close to making the move from national entrant to Grand Prix contender and like so many British projects it failed through a lack of funding.
The company was established by designer Rodney Clarke and engineer Mike Oliver, with financial backing from Kenneth McAlpine, who also drove the cars in the early years. The first machine was a club racer, and the first single seater was an F2 machine built in 1950. This was reasonably successful but it was not until 1955, when Tony Brooks won the Syracuse Grand Prix in a Connaught that company looked to be going places.
Sadly the team could not afford to mount a full works teams and could contest a handful of continental races each year. The company eventually closed its doors in 1957 after trying to stay afloat by servicing independents' cars.
Cars