Connaught B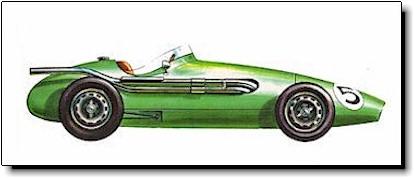 Active: 1955 - 1958
Team: Connaught Engineering
Car: Connaught B
Constructor: Connaught
Year: 1955
Class: Formula 1
Engine: 4 Cylinder in line Alta
Bore X Stroke: 93,5 x 90 mm
Capacity: 2,470 cc
Power: 250 Bhp at 6,700 rpm
---
Continental Cars Ltd. built their first proper racing car in 1949 using a 1,767cc Lea-Francis engine. Typical of small British makers of the period the company was chronically under financed but the cars that were made were exceptionally well built. Rodney Clarke, whose creations these were, was an outstanding design engineer who lavished his attention on details that would never trouble his contemporaries, at Coopers or HVM. In fact this attention to even the most minute details would retard development. Yet during his career Rodney Clarke conceived a rear-engined GT car as early as 1950, a rear engined monocoque Formula 1 car in 1955 and other systems such as anti-lock braking and self-leveling suspension. Unfortunately none of these ideas ever went into production. Still Connaught was able to maintain a small business producing Formula 2 cars. When the new 2 1/2 liter formula was announced in 1954 allowing Formula 2 cars to compete in Grand Prix races at the top level, Connaught found itself competing against the top Italian firms. The main weakness of British cars of this period was the lack of competitive engines. Coventry Climax was planning a V8 but abandoned their plans at the last moment. This left many of the British teams in the lurch. The horsepower available to Connaught drivers never matched the handling, braking or cornering power of these fine machines.
Work on the new car that was meant to accept the new V8 was stopped and a stop-gap B-Type car was quickly produced. It is indicative of the far sightedness of Clarke that Connaught was the first Formula1 team to own their own wind tunnel. At aerodynamicist Eric Halls suggestion the original B-Type had a fully enveloping body though the famous Syracuse winning car had an open-wheeler bodywork.
In 1955 money was running short as the teams main backer, Ken McAlpine had grown tired of the constant red ink. The organizers of the Syracuse Grand Prix, a non-championship event, were desperate for entrants and offered £1000 per car for Connaught. The story of what happened next is one of Grand Prix racing's greatest upsets, when an unknown British team found themselves facing a flotilla of Maseratis. Driven by two young drivers including a young dental student named Tony Brooks, the cars were late in arriving. To top it off the drivers were limited to 15 practice laps. The Italians could not help but feel confident that they would soon crush these British upstarts. All that turned to dust as Brooks qualified to the amazement of all including himself on the front row. The day belonged to this vastly underrated driver who could easily have won a World Championship later in his career. The Maserati 250Fs of Musso, Schell and Villoresi were beaten and long after the sound of racing engines had died and all of the other teams and spectators had left the circuit, the tiny British contingent were still celebrating in the Connaught pit.
---
---