J.A.W. wrote:

bdr529 wrote: Sure bdr..., check

http://www.wwiiaircraftperformance.org

- the Mosquito section shows a similar ( ~8mph)

loss in speed from the matte paint finish as the failure to maintain a "careful" attention to fine paint-surface finish detail.

( & DH factory testing showed even greater drag effects from the contrast).

While paint has no doubt changed since WW2 ( not least due to solvent regs), practical effects of fineness on speed - remain.
There is no information on the 2 types of paint they used, it just says flat/matt black paint and smooth black paint
Did both paints have the same Molar mass?
Did they each receive the exact film thickness?
Did the matt black need a primer coat first, due to lack of adhesion to bare metal, and not the smooth black?
If they both needed a primer coat, did they use the same primer for both top coats?
If they needed 2 different primers, what's the molar mass of the different primers?
And did they have the same film thickness?
They do say that "The tests were made at a weight of 18,530 lb."
I find it a little hard to believe that they managed to strip a plain down to bare metal and repaint it, and still come out with the exact same weight, the only difference being the type of paint used, they were not painted by robots and there should be some difference due to human error. an extra 500ml of paint used would equal around 1 lb
There also is some discrepancy in the findings between the test performed by de Havilland and the
Aeroplane & Armament Experimental Establishment regarding the speeds obtained between the same paints.
along with a difference in roughness of the matt black and the smoothness of the smooth black, between the 2 different test performed by each of the parties involved.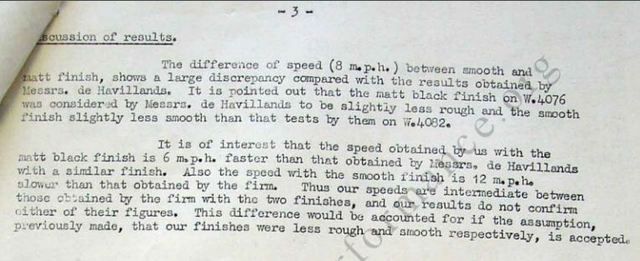 Are you stating that the "rough" matte paint used in the war on the the Mosquito/Spitfire,
has the same texture as the matte paint finish on the Red Bull???
As for your statement "While paint has no doubt changed since WW2 ( not least due to solvent regs)"
the biggest change was the resins and binders used in paints, between the 40's and 60's
the need to remove VOC's and solvents use in paints didn't start till the 80's and 90's
And lastly the article I posted earlier by Hot Rod mag. is referencing Gary Eaker former senior project engineer from GM's Advanced Aero Group, former aerodynamicist for Hendrick Motorsports. and now founder and owner of
both A2 wind tunnel and AeroDyn wind tunnel
Once again you disagree with a reference I've used, then please write him a letter and tell him he's full of S**t
Gary Eaker @ A2 Wind Tunnel, 117 Godspeed Ln, Mooresville, NC 28115, United Sates