randomdude

wrote:

↑

Thu Aug 06, 2020 1:33 pm

JordanMugen

wrote:

↑

Thu Aug 06, 2020 1:56 am

Perhaps Murrary is indeed stuck in the past with a V12 engine obsession, when both Ford GT and Honda NSX engineers instead arrived at the V6 twin-turbo being the optimal supercar engine...

Too bad, I wanted a 4 banger twin scroll single turbo engine which sounds way better.
I see!
Are these [Super GT/Super Formula] a twin-scroll turbo (or is twin-scroll unnecessary on a racing engine)? The wacky cam-cover to mount the inline 4-cylinder engine as a structural member is very unusual indeed! I'm pleased to the traditional attractive crinkle-red paint though.
Would you compromise on a 919-type V4 for F1 due to it's better torsional structural properties? I can certainly envision 1.06L V4 (i.e., chop two cylinders off the current engines, given they are already 90 degrees and suitable for a V4 firing order) hybrid with a much bigger electric power output as the next generation of Formula One motor.
It's a rather ugly engine with all the usual modern messing wiring and plumbing, but it does the job.
One wonder why Murray fitted his supercar with 8 unnecessary efficiency-robbing cylinders, when as Porsche shows, a V4 turbo would have been a fraction of the size and weight!?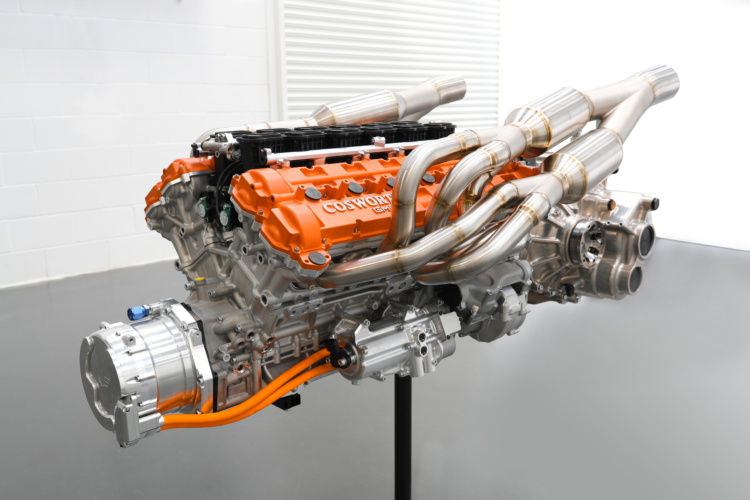 Where is the ugly mess of wires and hoses that are supposed to adorn a modern engine!!??