HRT run new nose and front wing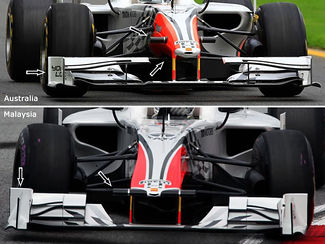 The troubled HRT have finally managed to get some new parts through customs, now including a completely new nose and front wing assembly. Because the new nose didn't pass the crash test in time, HRT had to run the old version, including a 2010 front wing which was a bad match with the rest of the car.
At Malaysia, things appear to be on the upper hand, as both cars were running well within the 107% on Friday. Part of this is surely because of the updated front wing which lacks the extremely wide stacked element. Instead it shares some features of the RBR and Mercedes GP front wing. The nose cone on the other hand is still has the lowest tip of all 2011 cars but now is much wider and flatter, following the 2011 trend. Just like at Red Bull or Williams, the cameras are now positioned as much ahead as possible to not interfere with airflow diversions created by the front wing.