Burning fuel to gain downforce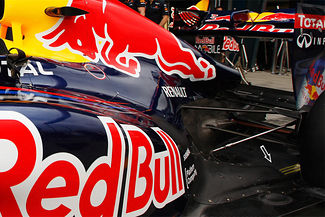 Once again Red Bull have devised another blown diffuser system, even after rules were made more strict. The team's car now makes use of the energized exhaust flow to separate the laminar flow of the rear wheels from the diffuser's airflow, hence creating a much more efficient diffuser and beam wing combination.
To make this work efficiently though, it is important that flow from the exhausts is more or less constant, or otherwise put, the car's behaviour will be more predictable when exhaust flow does not suddenly change. Therefore, Renault have been tuning its engine within the strict limits of the rules to optimise fuel burning, even when the throttle is lifted. While tuning details will be different for the forward exiting exhaust on the Lotus Renault, the same principle applies there as well.
The benefits are to such an extent that Renault have declared themselves: "Since the RS27's fuel consumption rate is extremely good, the Renault-equipped teams were able to burn 10% more fuel than normal during the Australian Grand Prix without running out of fuel, therefore giving more exhaust flow to its partners using the blown diffuser."