First major development step for Ferrari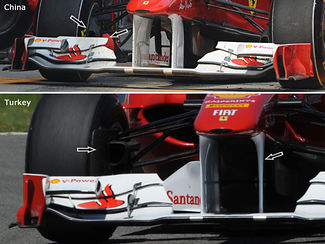 The Turkish GP saw the first major update on the Ferrari F150 since the team found out a serious problem between the correlation of their windtunnel with track performance. The Italian team is struggling to correctly measure vortices and are therefore now verifying their updates in Toyota's windtunnel which has a PIV system to accurately measure airflow and feed it back into CFD systems.
At Turkey, both cars featured new front wings and different brake ducts. While the stacked element and end plate remained the same, the flap design close to the car's centre line changed, increasing the flap surfaces to generate additional front downforce. As such a change also drastically influences airflow to the front brake ducts, these have also been redesigned with a fence now between the duct inlet and the tyre wall. Interesting as well is the change in material, as the old, downfacing ducts were build using rapid prototyping materials, while the new version is of carbon fibre.