All new front wing and nose package on VJM04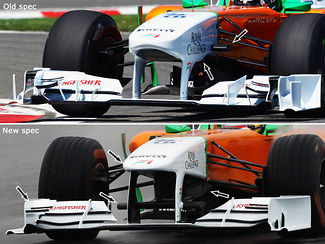 While most teams are planning major upgrades at the next event at Barcelona, Force India brought a considerable front aero package to Turkey. Paul Di Resta and then Adrian Sutil tested it in the Friday sessions, not to see it return for qualifying or racing. The team mainly ran the device to get a first benchmark of what to expect.
In essence, the package brings a brand new front wing that sees a third panel added. The wing itself looks very simple, even the stacked element lacks an endplate. It is sure there are move possibilities from this new wing, but if the team can get the new baseline working, they could well move up the grid a few positions.
Join with the new front wing is a new nose cone which sees Force India's traditional nose bulge disappear in favour of a sharp and high nose, with underneath a McLaren snowplough. The element works as a splitter to guide air left and right of the nose cone, while the upwards airflow from underneath the plough can generate downforce. Also note how the obligatory cameras have been repositioned. Previously just ahead of the front suspension, now on each side of the front wing pillars in line with the leading edge of the snowplough.