Ferrari trigger inquiry with new rear wing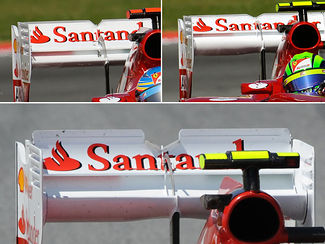 Ferrari have been trying out several versions of its rear wing during the Friday practice sessions at Barcelona. On the top right of the image is the version that was also raced at the Turkish GP. It features a typical Red Bull style dip in the centre of the trailing edge of the wing. The endplate of the wing is designed with 3 slot gaps while the lower panel has a very pronounced upward curve on its leading edge.
The newer version on the top left have a much less upward angle at the front while the bend at the central wing support was removed in favor of a straight profile.
Finally their newest design is building on the Turkey wing, but adds to that an impressive gurney flap, extending much above the rear wing endplates. In fact that very design feature quickly triggered interest of race director Charlie Whiting, who went to talk with Ferrari about the legality of the new wing. The wing reportedly also featured a slot gap that was smaller than the required 200mm, but it is likely that Ferrari is just testing this wing to simulate higher downforce levels, which the intention to use it during the remainder of the race weekend.