McLaren ditch pillar and long chord DRS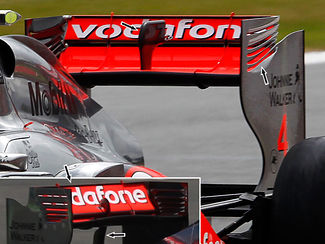 McLaren have introduced an entirely new rear wing at Silverstone, completely departing the philosophy the team has followed since the beginning of the season. As the inset shows, McLaren have run an upper rear wing flap with a long chord and were about the only team left to use this extreme design. It allowed for the DRS actuator to be small with little aerodynamic impact, but McLaren found it was not enough.
Instead, the new rear wing has a much smaller uppermost flap. As the regulations specify DRS to open a gap to 5cm, a shorter chord for the upper flap allows for it to be placed much more horizontal when DRS is activated, hence allowing a more effective drag reduction of the entire rear wing. This of course required the DRS activation element (in black) in the centre of the wing to be positioned higher above the main flap.
The new wing also ditches the central pillar which was previously used to house the cabling of the DRS activator. Instead, the cables are not wired through the rear wing's lower element and through the end plates back into the chassis.
Finally, the team have also taken the design of the end plate slits to the extreme, with all 5 slits being differently shaped and running up to the very rear end of the end plate. The design is a particular masterpiece as the wing in its completeness must pass an FIA strength test to prevent teams from design flexible rear wings.