Another new front wing endplate on McLaren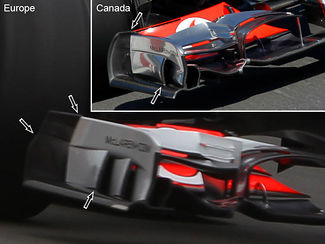 McLaren introduced at Valencia yet another new iteration of its front wing endplate. The new endplate is targeted at catching more air from around the endplate and feed it under the wing's panels. This will increase downforce creation at the outer extremities of the front wing and will certainly influence airflow around the front wheels.
McLaren had other new bits on their cars as well and are expected to have another host of new components at Silverstone, the first event with the hot blowing exhaust ban in effect.