New vanes on McLaren rear wing endplates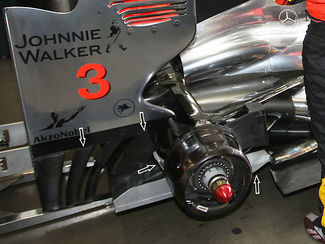 McLaren have added new vanes at the bottom end of the rear wing endplates in order to better manage airflow around the diffuser. Vanes in this area have been copied by Red bull and Ferrari earlier on as they can greatly help generate downforce due to their proximity to the engine exhausts.
It is for the same reason that some or the components of the diffuser and the lower flipup behind the brake duct are coated with heat resistive material to prevent the underlying carbon fibre from delaminating.