MVR-02 updated with MercedesGP alike exhaust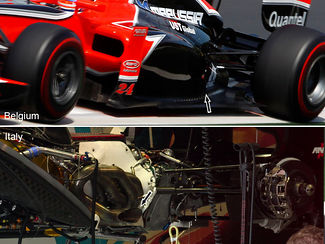 The team have used the new exhaust design already at the Italian GP at Monza, and thanks to seeing a performance improvement, they run it again at Singapore.
The design change abandons the somewhat unique layout Virgin had by blowing the exhaust over the diffuser quite close to the centre line of the car. Instead, the new layout is nearly identical to what can be seen on the Mercedes GP W02. Exhaust gases are now blown out of the side of the sidepods, close to the car's floor. With drivers having had problems earlier on in the season to get their tyres up to temperature, the side effect of this layout could well benefit the car's behavior, as well as adding downforce.
HRT to name one have earlier on proven that the Mercedes exhaust layout is indeed one of the simpler to get working and still get benefit of the blowing effect to seal the sides of the diffuser.