Mercedes GP W02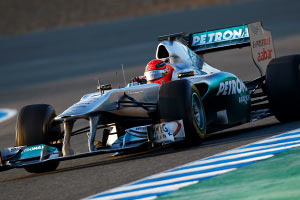 Active: 2011
Team: Mercedes AMG F1

Team: John Owen (CD), Loic Bigois (HA), Craig Wilson (Head of Vehicle Eng. & Dynamics), Russell Cooley (CE), Ross Brawn (TP), Nick Fry (CEO), Norbert Haug (VP), Thomas Fuhr (MD), Rob Thomas (COO)
Drivers: Michael Schumacher (7), Nico Rosberg (8)
The MGP W02 was to be a decisive year for Mercedes GP after their first car proved to be somewhat of a disappointment, despite finishing 4th in the constructors championship. As such, the team decided early on in 2010 to switch their main focus to the W02, resulting in a dramatically different car, launched on 1 Feb at Valencia.
The most striking difference is the nose, which has a much higher nosetip and is very flat, very different from other F1 cars. It does however follow the high nose trend to allow for a better airflow onto the splitter and into the floor of the car.
The 2011 MGP car still preserves the short wheelbase that the W01 also featured, making it the designers difficult to package everything well in the area behind the driver., especially as KERS needed to be integrated again. The result is however impressive, with the engine cover showing high shoulders but still efficiently shaped to not be in the way of clean airflow. The sidepods meanwhile as very compact as the team tried to gain as much airflow as possible onto the diffuser. Along with this came also the switch to pull rod rear suspension, a feature many 2011 cars have after copying the application from Red Bull's successful RB5 and RB6.
Different from its radical sidepod approach is the switch in the airbox area. Where the W01 featured a roll hoop blade that MGP pioneered at the Spanish GP in 2010, the team chose a more conventional design after seeing most of the advantages being cut away by changed regulations.
The first winter test at Valencia however showed that the team had taken the sidepod extremities a bit too far as they kept struggling with overheating during longer runs. Based on that input, a redesign of the sidepods was triggered and introduced at the final winter test, 2 weeks ahead of the first GP of the season. That update reportedly brought the team nearly a full second a lap, thanks to new front and rear wings, different barge boards and reshaped sidepods, with exhausts exiting further from the car's centre line but right above the floor.
Specifications
Construction: Moulded carbon fibre and honeycomb composite structure
Front suspension: Wishbone and pushrod activated torsion springs and rockers
Rear suspension: Wishbone and pullrod activated torsion springs and rockers
Dampers: Penske
Wheels: BBS forged magnesium
Tyres: Pirelli
Brakes: Brembo calipers
Brake: discs/pads Carbon/Carbon
Steering: Power assisted rack and pinion
Steering wheel: Carbon fibre construction
Electronics: FIA standard ECU and FIA homologated electronic and electrical system
Transmission
Gearbox: Seven speed unit with cast aluminium maincase
Gear selection: Sequential, semi-automatic, hydraulic activation
Clutch: Carbon plate
Dimensions
Overall length: 4800mm
Overall height: 950mm
Overall width: 1800mm
Engine
Type: Mercedes-Benz FO108Y
Capacity: 2.4 litres
Configuration: V8 in 90° bank angle
Maximum rpm: 18,000 (maximum FIA regulation)
Piston bore: 98mm (maximum FIA regulation)
No of valves: 32
Weight: 95kg (minimum FIA regulation weight)
---
---