A closer look at Williams' brake ducts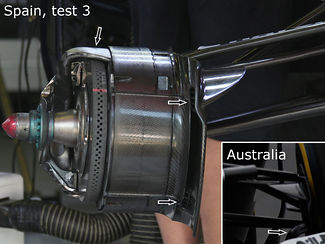 Williams have been running all winter with front brake ducts that seemingly contain no inlet duct. The same sort of duct was seen at Melbourne, although, as visible in the inset, Williams added a flow conditioner on the lower part of the upright compared to the most recent winter test at Barcelona.
As marked in the main image, the trick is to have the inlet in between the tyre wall and the duct's vertical element. The few centimeters of clearance between the tyre wall and the carbon fiber blade are apparently enough to provide enough air to cool the brakes.
It is also clearly visible that on the upper and lower edge of the inlet, there are small sub-ducts. One of these channels air to the inside of the brake caliper, while the other directs air through the duct passing above the brake disc to the outer side of the caliper.
Compare this for instance to the ducts the team ran just 2 years ago: http://www.f1technical.net/development/319