Ferrari adds aerodynamic tweaks on rear wing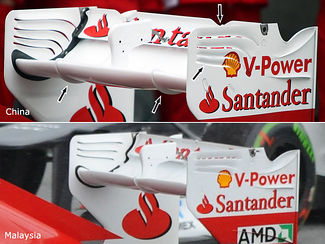 Although Ferrari is now mainly concentrating on redesigning the exhaust layout, other car updates are also still being developed according a development plan set out before the season. One of these updates includes a changed rear wing, used as of the Chinese GP.
The wing elements themselves have been slightly modified around the new gap separators. The Melbourne spec rear wing only had a single gap separator, visible by a single vertical edge running all around the lower and upper panel of the rear wing. The FIA mandates such fin to make sure a minimal gap between the lower and upper wing element is maintained, even at high speeds. Ferrari have now chosen to use two of them. Along those elements, the leading edge of the lower element now has somewhat of a W-shape, while the upper element has two V-cuts on the trailing edge.
Additionally, the endplates were changed to include 4 slits in an attempt to reduce the vortex coming off of the outer extremities of the rear wing.