Williams' low downforce rear wing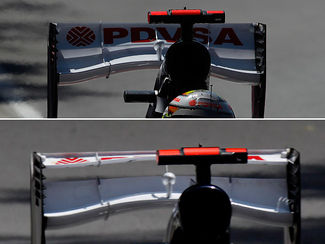 Williams designed a new one-off low downforce rear wing for the Canadian GP, which unfortunately for the team didn't pay off. In fact the special rear wing did not offer a big top speed improvement, at least not compared to what other teams came up with. During qualifying for instance - which is of course always with DRS open at the speed trap, the drivers posted 318.8 and 317.8 km/h, good for 19th and 20th positions on the top speed rankings.
Interesting as well is how this is a competely different rear wing to Williams' unraced 2011 Canada spec wing. Last year, the team opted for a design with raised outer edges, while this year's wing obviously features a raised central part.