Extremely low downforce wing for HRT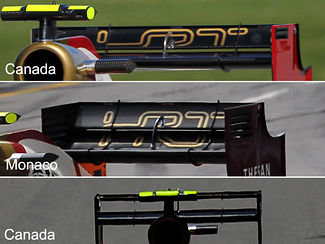 The Spanish HRT team came up with a special rear wing aimed to achieve better top speeds at the end of the straights of Circuit Gilles Villeneuve. While that in itself is not special, the actual design is, because it's been a while since we saw such a tiny rear wing on an F1 car. The wing is especially impressive with DRS open, where it generated very little downforce, but also a little drag as possible.
The wing did pay off, as HRT was among the fastest cars on the straight, but unfortunately that came at a cost in the corners. Brake problems for both cars after only 25 laps of racing meant it didn't matter much anyway, as both cars were forced to retire before the halfway mark.