Red Bull redesigns tunnel underneath exhaust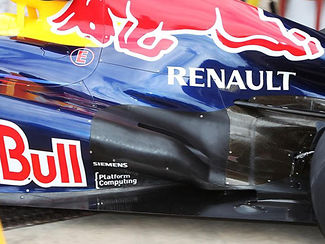 By introducing yet another new sidepod version, Red Bull is the only team that can compete with Ferrari when you consider the number of changes made to the rear end of the sidepods since the beginning of the season.
The team has now changed the tunnel that goes underneath the exhaust ramp, making the inlet much larger than it was in the previous version. Aerodynamic tests on track had shown that the tunnel was not acting as the team expected because airflow through the tunnel was much less than anticipated. This caused problems to generate a consistent airflow into the diffuser, and hence created a changing car balance. The problem was this difficult that the team even tested an entirely closed tunnel, only to make sure that drivers could gain a consistent feeling with the car.
With the airflow through the duct now much bigger than it was before, its impact on the diffuser is also a lot more important. Pictures from the rear end of the car appear to reveal that most of the air from the duct is exiting close to the car's centre, aiming to increase the flow-rate over the top of the diffuser. This flow will also increase the flow-rate from underneath the diffuser and the floor, creating an overall positive effect on the efficiency of the diffuser.