Caterham adds major update to CT01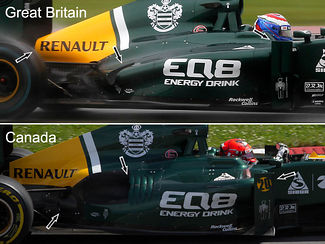 Caterham F1 have updated their CT01 with a major new aerodynamic package focusing on the rear end of the car. It is quite obvious the team have found inspiration at McLaren and Sauber as the team have now (finally) also implemented a downwash exhaust that aims to extract more downforce out of the diffuser.
First and foremost, the exhaust is now in a hub similar to what is seen on the McLaren. The exhaust exit is now more rearward and more outboard than it was before. As the hub aims to direct exhaust flow down towards the diffuser, the team also removed any airflow obstacles low above the car's floor. An air outlet previously located below the upper front wishbone has been removed for better airflow right above the diffuser.
To ensure there is still enough cooling capacity for the sidepod internals, the Caterham now also features a larger central cooling funnel a la Red Bull (at Canada the team only had a very narrow central cooling funnel).
To top off the updates, the CT01 also features new sidepod panels, now featuring two elements, rather than a single solid structure as was previously the case.