Red Bull adds bulges on exhaust exit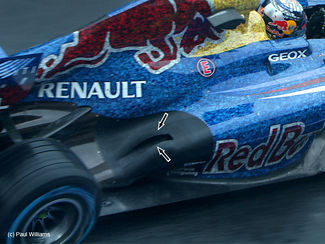 Just two weeks after introducing a major rear end upgrade on the RB8, Red Bull have fitted their car with yet another exhaust tweak at Silverstone. This time around the change is small but may have a big effect nonetheless.
The sides of the exhaust channel have been raised to have two small bulges on each side of the channel, trying to keep the exhaust flow from spilling over the sides. Remember that the actual exhaust exit is point 10° upwards, as defined by the regulations. Ever since the team's first version of their exhaust ramp, introduced at Barcelona pre-season testing, the team is trying to channel the exhaust gases downward over the sidepod slope, rather than spilling over the sides of the sidepod.