Mercedes adopts coanda exhaust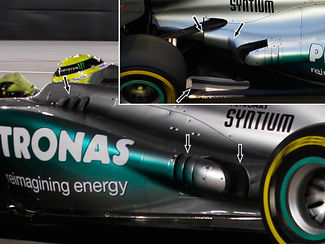 Mercedes AMG has become the latest team to adopt a downwash exhaust outlet. After having already tested it on track during the most recent young driver test at Magny-Cours, the W03 was immediately fitted with the new exhaust layout in Singapore and was also found good enough to race.
The team's design very much resembles that of the Ferrari F2012 where a bulge on the side of the sidepod incorporates the upward pointing exhaust pipe. The U-channel behind it attempts to prevent the exhaust from flowing upwards, while at the end of the channel, the outer airstream helps to suck the gases downward onto the diffuser area. The result is that exhaust gases flow near the car's floor, which in turn gets heated. To counteract this effect and protect the carbon fibre from burning, heat protective foil that has been applied on the floor, just ahead of the rear wheels.
The result of this, combined with a likely modification to the engine map to ensure a more even exhaust flow, is, according to Ross Brawn, more downforce at the rear, especially out of tight corners as it appears it gives the most benefit at lower car speeds.
Note that just like at Ferrari and McLaren, the F1 W03 features a small air outlet below the upper suspension arms, and similar to Ferrari also outlets aside of the exhaust channel. The 3 louvres on each side of the cockpit opening are likely unrelated to the different sidepod layout, but have been added to cope with the high temperatures at Singapore.
With Mercedes now having made the conversion, the only teams left without a downwash exhaust are HRT and Lotus.