McLaren's low downforce wing packages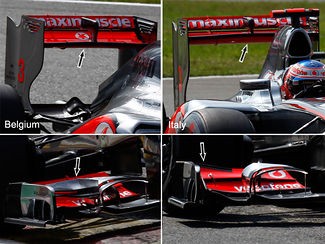 McLaren have run two interesting wing packages at both Spa and then Monza, two circuits known for their high speed straights, with Spa adding a high number of medium speed corners to the mix.
At the Belgian GP, McLaren had a medium downforce rear wing ready for both drivers, but only Jenson Button decided to use it - and he went on to win the Grand Prix with ease. The rear wing featured an upward curve on the leading edge of the wing, causing a lower pressure difference between the airflow streaming above the wing and that streaming below. Together, this will lead to lower downforce and lower drag.
The car's front wing on the other hand changed little compared to Hungary. The team were sufficiently happy by reducing wing angle at the front, since the medium speed corners require high front downforce anyway.
Monza was an entirely different story, with the team using the same rear wing for both its drivers this time, but combined with a different front wing. Although modifications are small, the team removed the outer parts of the stacked elements to reduce downforce at the front. Additionally, the wing's trailing edge was revised with a smaller upper element, albeit now with a small gurneyflap on the outer edges - the flap is black, fixed on the trailing edge of the upper red panel, and marked with an arrow.