Williams changes nosecone on FW34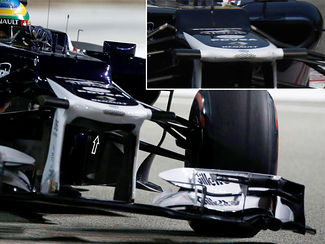 The Williams FW34 appeared at Singapore with a new nosecone design, featuring a bulge underneath the tip of the nose, in between the front wing supports. Force India have run a similar, but more pronounced bulge during the entire 2011 season on their VJM04. If not for aerodynamic benefit, the bulge can also enable the team to make the nose slightly heavier.
The front edge of the nose has changed as well, now more rounded and extending further ahead of the camera hubs that are still located on each side of the nosecone.