Red Bull races new front wing at Singapore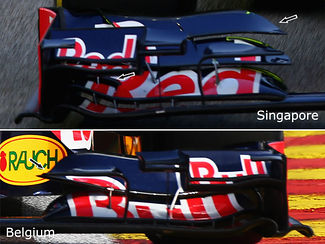 Red Bull Racing debuted a new front wing on the RB8, featuring two changes. The first of which is the addition of an extra slot where the front wing is ahead of the wheels. This means a little bit more air will reach the underside of the flap, filling the low pressure area underneath the front wing. Although this can add downforce at the front, its most important function is likely to be better control of the airflow around the front wheel, hence the front wheel's wake and underneath the car's floor.
Secondly, the upper flap was split up into two panels where that flap is not ahead of the wheels. This is again a change that effects the car's aerodynamic performance further downstream. Having two panels instead of one means there are two ends, hence also two less strong vortices coming off the inside tip of the flaps, instead of a single, stronger one in the previous design.