Ferrari focused on understanding 'development errors'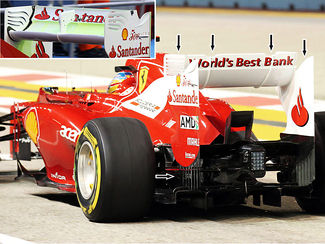 Ferrari is more and more struggling to keep up with the development pace of other teams, with Singapore being no exception. The team brought a new rear wing featuring interesting changes, but after testing both the new and the previous wing on Friday by applying flow-vis paint, the Italians opted to use the older version on both cars as the new one did not bring the improvement the team had hoped for.
The new wing features a lot more slots in the endplate (the old wing is displayed in the inset), extending onto the rear wing's flap. The idea of this is to reduce the strength of the vortex coming off of the endplate, reducing the drag from the wing assembly. To help with this, the cut-out at the top of the endplates, just behind the flap is also more pronounced.
On the lower end of the endplates, 8 vanes now work in combination with the diffuser, attempting to extract as much air to the outside of the vanes, hence trying to speed up the flow in between both endplates.
While a single wing may not be a problem, Ferrari do have a serious problem on their hand, as they have already failed numerous times this season to get their car updates to work effectively. The team for instance had a considerably different front wing at Valencia, but after 3 consecutive Fridays of testing finally decided not to use it.
Another change, a number of winglets attached to the barge boards were seen at Hungary, but never again. Given the high downforce nature of the track, one could have expected to see this item return at Singapore, but that was not the case.
All in all, the problems are creating trouble at Ferrari, with Alonso now openly expressing his worries about Ferrari's development progress. Domenicali and Fry also immediately left Singapore after the race to return to Marcello as soon as possible to oversee further developments for the remaining races of the season. Under their self dubbed "less haste, more speed," the engineers at Maranello are now hard at work to try to solve the problems which are likely to be correlation issues with the wind tunnel.
Ever since their famous exhaust updates where the team brought several different versions to test on the track, development has not gone like the team would have liked. Some updates have worked, but those that don't are costly in the race for the championship.