Lotus debuts coanda exhaust in FP1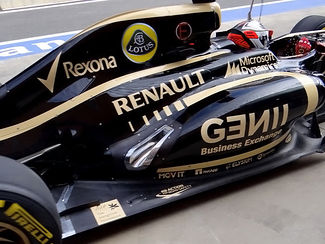 As announced earlier this week, Lotus F1 have finally introduced their new Coanda style exhaust on the E20. It was tested by Kimi Raikkonen only during FP1 at the Korean International Circuit.
The layout very much resembles that of McLaren's downwash exhaust, however on the Lotus it does feature only a very minor bulge, instead the exhaust channel is almost seemlessly integrated into an unchanged sidepod shape. Another interesting detail is the metallic channel used by the team instead of special coated carbon fibre that other teams are using for weight benefits.
Also interesting is that the team are still not in need to extra cooling of the exhaust. Apart from two gills above the frontal upper suspension arm of the rear wheel, not additional outlets have been added - contrary to Ferrari, McLaren and Mercedes who all added gills around the exhaust at the time of introduction of their Coanda exhausts.