Red Bull 'rubber nose' flexing confirmed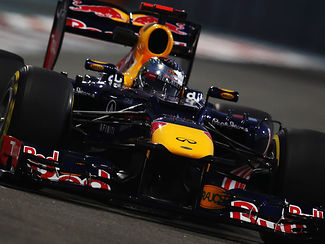 Red Bull has drawn attention to its flexing front wing again at the recent Abu Dhabi GP. When changing the nose cone of Sebastian Vettel's RB8, it was clear that mechanics could easily bend the nose cone. Footage has also shown that when hitting the kerbs hard, the nose shudders, creating a tilting effect for the front wing.
While this may be new to many, Red Bull's bending nose has been discussed on the f1technical forum since the very first winter tests of this year, and even earlier when you consider previous cars built by Red Bull Racing. Comparative images showed that the tip of the nose of the RB8 was seemingly lower to the ground at high speed than at low speeds. In fact it is an ingenious way to work around the front wing stress tests as those focus on putting weight on each side of the front wing, trying to detect up and down flexing over the entire span of the wing. Red Bull's wings have always passed every test, as the team was able to construct a wing that is strong enough while allowing some flex in the nose to tilt the wing in its entirety when under load.
Experts on the matter have meanwhile also confirmed that it is fairly common to design and produce the tip of a nose to be a little softer to be able to pass the front impact crash test, but none have been found to implement it in such extreme way as Red Bull have done. It is also believed that, while the flexing was present since the beginning of the season, Red Bull's new nose cone, introduced at the Singapore GP further increased the benefits.
Apart from the obvious aerodynamic benefit, one may also have to consider Red Bull using the design to create a mass damping effect, similar to what Renault did in 2005 and 2006 with its tuned mass damper - before it got banned. Although still beneficial, the need for additional mass damping has been drastically reduced since teams started using J-dampers or inerters.