Lotus testing DRD and rear wing combination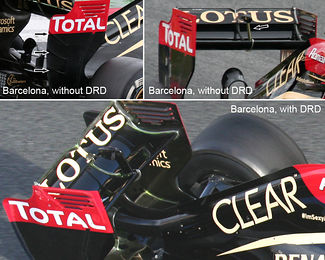 Lotus was seen running its DRD system yesterday at Barcelona, but interestingly that is not all that changes about the car. In fact, the team changes rear wings along with the fitting of the DRD, and reverts to the previous rear wing when continuing to run without DRD - or passive DRS, or DDRS.
Although the differences between the rear wings are quite marginal, it does show the complexity of the DRD in Formula One. When DRD is fitted, the raer wing endplates do not feature strakes on the outside of the plates. Their design is also remarkable, as all strakes aim to direct air upwards. Ferrari on the other hand have similar, albeit smaller strakes, but the lowest of the 3 on the Ferrari F138 direct air downwards.
Furthermore, the Lotus rear wings also feature different DRS actuator pods and appear to have a slightly different cut in the centre of the upper rear wing flap.