Front wing simplification on MP4-28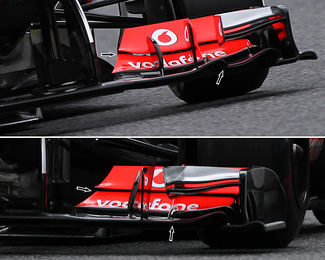 McLaren have tested a new front wing (in the lower part of the image) on their MP4-28 to improve car balance and frontal downforce. The team have basically simplified the main place by removing the inner humps that were introduced during the 2012 season. The new front wing is a almost entirely flat, as low as possible to the ground to help create downforce and only bulges towars the endplate to control the downforce generation under steering and yaw.
Along with this, the endings on the innermost edges of the flaps have also been slightly revised, although this is more likely to be a matter of controlling airflow towards the sidepods, rather than a downforce improvement for the wing itself.