New Red Bull front wing filled with tweaks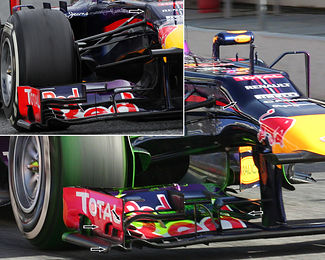 Red Bull Racing introduced a new front wing on their car, maintaining the same basic concept but with small modifications all over the wing. Mark Webber left the pitlane with the new wing filled with flowviz in the morning, ready to do some flow verification.
The changes include the addition of two apertures in the end plates to catch a little more air and push it up over the flaps. The stacked element has been modified accordingly, now curving more down close to the endplate. The trailing edge of that stacked flap is also similarly curved, contrary to a straight edge on the previous wing. Notice that also the lower edge of the endplate has changed, as well as the innermost endings of the flaps.
Also indicated in the image is a different vanity panel on the nose, making it a bit bigger and getting rid of the tapering flanks.