Infiniti Red Bull RB9 Renault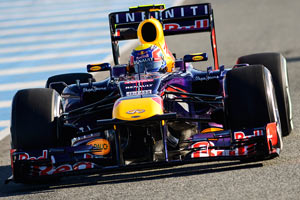 Active: 2013
Team: Red Bull Racing

Team: Adrian Newey (CTO), Petr Prodromou (CA), Rob Marshall (CD), Christian Horner (TP)
Drivers: Sebastian Vettel (1), Mark Webber (2), Sebastian Buemi (reserve)
Team name: Infiniti Red Bull Racing
The RB9 was unveiled at Red Bull Racing HQ in Milton Keynes on February 3. A short launch where no media were allowed to take pictures displayed a baseline car that was shipped that evening to Jerez where winter testing commenced the next Tuesday.
The launched car featured a stepped nose with a small vanity panel, after which a small air outlet is hidden. The sidepods were largely the same as the year before while the most effort went into developing the rear end to improve downforce. The team's Chief Technical Officer, Adrian Newey, also noted that the front wing was strengthened considerably to meet the stricter FIA regulations and that a lot of work was put into optimising the car for the new 2013 Pirelli tyres. More details can be found in the launch technical analysis.
2013 is also the first year for Red Bull Racing with its title sponsor Infiniti. The new 4-year deal sees people from the car manufacturer work at Red Bull Racing's headquarters at Milton Keynes, with the marque aiming to integrate further team members into the Vehicle Performance department in Milton Keynes. The change is also reflected on the car, with the large Infiniti logo sporting on the sidepods of the car, while purple was added to the livery.
Commenting on the strengthened relationship, team principal Christian Horner said: "Our stronger link with Infiniti from 2013 is part of the natural evolution of our team and demonstrates its growth. We are still a young racing outfit and this title partnership is a very welcome aspect of our development. I firmly believe it will prove to be of enormous benefit on both sides over the coming years."

Once the season commenced, it was clear the RB9 was not as dominant from the word go as its predecessors with Ferrari turning out to be a fierce contender. The close competition forced Red Bull into a rapid development programme, even though it remained limited to continuous small steps throughout the season. While Ferrari somewhat lost its way midway in the season, the Red Bull became virtually unbeatable as of the Belgian Grand Prix, especially in the hands of Sebastian Vettel. Mostly starting from pole, he quickly took an advantage and was never challenged again in many races. In the end, it easily secured another drivers' and constructors' title.
Technically however, the car was once again in the centre of discussion, not least following the Singapore Grand Prix where the car was in a class of its own. Suggestions of a bending floor, traction control induced by the KERS system or extreme engine mappings were never proven, even though the FIA once subjected the car to an extra round of static tests at the Indian GP to make sure it was within the limits of the regulations.
Specifications
Chassis: Composite monocoque structure, designed and built in-house, carrying the Renault V8 engine as fully stressed member
Transmission: Seven-speed gearbox, longitudinally mounted with hydraulic system for power shift and clutch operation. AP Racing clutch
Front suspension: Aluminium alloy uprights, carbon-composite double wishbone with springs and anti-roll bar, Multimatic dampers
Rear suspension: Aluminium alloy uprights, carbon-composite double wishbone with springs and anti-roll bar, Multimatic dampers
Brakes: Brembo calipers. Carbon discs and pads
Electronics: MESL standard control unit
Fuel: Total Group
Wheels: OZ Racing; front: 12.0in x 13in diam; rear: 13.7in x 13in diam
Tyres: Pirelli PZero
Brakes: Brembo calipers. Carbon discs and pads
Engine
Designation: Renault RS27 - 2013
Type: naturally aspirated, 90° V8
Capacity: 2400cc
Max rpm: 18,000rpm
Number of Valves: 32
Power Output: Approx. 750 bhp
Engine construction: Cylinder block in cast aluminium
Engine management: MESL standard control unit TAG320
Oil: Total Group
Weight: FIA minimum weight of 95kg
---
---