Lotus continue to evaluate exhaust options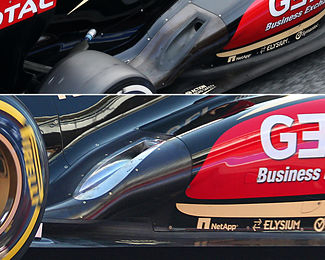 Lotus is continuing to try out different versions of its exhaust channel, trying to maximize rear downforce. Davide Valsecchi was this morning testing again with an inconel exhaust channel, featuring a different curve and depth. Similar parts were spotted earlier on at the Jerez test.
The team earlier noted that the inconel metallic parts are not being used to resolve overheating issues with the carbon fibre exhaust channel. In fact, the inconel parts are easier and quicker to manufacture and are much more durable than the carbon composite parts. This allows the team to test various options quickly, albeit with a slight weight penalty for the metallic parts.