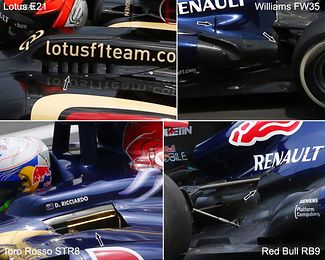 The Malaysian GP is a notorious challenge for the teams due to its high ambient temperatures and high humidity. As opening up the car creates additional drag, teams optimise their cars for lower temperatures and add outlets as needed.
Various teams have of course different solutions. At Lotus for instance the team added cooling gills aside of the cockpit, a very common outlet used also on the Mercedes AMG F1W04 and the Red Bull RB9. Toro Rosso realised this is an interesting cooling place as well, but rather than fitting a grill that helps extract air from within the sidepod, the team simply removed a panel, something that is likely to cost them quite a bit of drag - note the goldfoil on the monocoque, fitted to reflect radiation heat from the sidepod.
The rear end of the car is the second area where teams are opening up the sidepod, usually extracting hot air close to the car's centreline. Williams have done this by means of of combination of smaller outlets while Red Bull opted for a single additional opening just ahead of the frontal upper wishbone of the rear suspension.