Lotus fit new sidepods and exhausts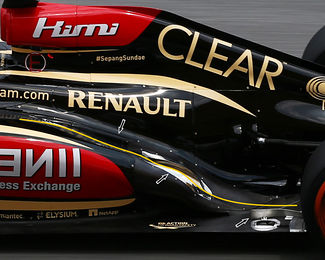 Lotus have started the season in anger with an impressive amount of car developments. Already at Australia the team brought a new front wing, while this time in Malaysia there is another new front wing, along with this heavily modified sidepod bodywork, fitted only on Kimi Raikkonen's car. Raikkonen will continue the weekend with the new layout but Romain Grosjean will have to wait until the next race as the team were unable to get two pieces ready.
The new sidepods are a rather large update to the car, all aimed at better getting the exhaust gases to where the team wants them to be. The upper side of the sidepod has been lowered slightly, creating a wide channel that aims to pull air onto the exhaust exit. In combination with this is the modified exhaust channel, which features a steep edge just above the actual exhaust while the outer side has been raised, similar to what the exhaust channel on the Red Bull RB9 looks like.
Note the yellow flow line in the image, indicating what is likely to be the airflow above the sidepod and subsequently the flow of the exhausts. It is effectively the downward flow of the air above the sidepod that helps bend the exhaust gases down - which are blown out of an upward exhaust pipe.
The fact that the new exhaust channel is from inconel also shows the time pressure the team was on to get this part as soon as possible on the car. The metallic parts are much quicker to manufacture but respresent a slight weight penalty compared to a carbon fibre version.
Also note the metallic strake just ahead of the rear wheel which further helps guide exhaust gases to the gap between the rear wheel's inner sidewall and the outer edge of the diffuser. It is in this area where the highly energetic exhaust flow is used to bleed underneath the floor and seal off its edges.