Red Bull test front wheel axle blowing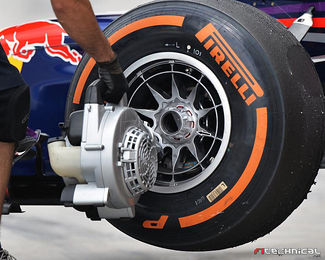 Red Bull Racing have copied Williams' hollow front wheel axle and wheelnut to allow air to pass through. Identical to the Williams version that was used since winter testing, the wheel nut is empty in the middle, which allows air caught by the brake ducts to flow out in an attempt to control the front wheel's wake. The latter is an important factor for rear downforce and also explains why teams are not using a similar system on the rear wheels, where it is more beneficial to have smaller brake ducts.
The system was only seen in the Friday practice sessions on Sebastian Vettel's #1 car.