New lower downforce beam wing on RB9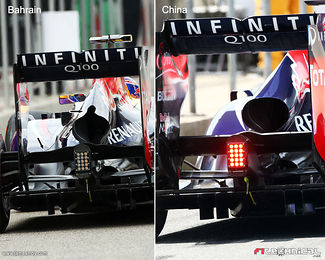 Red Bull introduced a new beam wing on its RB9 this weekend at Bahrain. The new version will generate a little bit less downforce than the more conventional one used during the first 3 races of the season. Although a smaller beam wing it itself is nothing special, the roundings on the trailing edge of the wing are interesting indeed. The element is aimed at generating more downforce close to the centreline of the car while the reduced frontal area will cause less drag and downforce closer to the rear wing endplates.
Also new on the RB9 is the different cut-out on the central hot air outlet, aimed at keeping the car's internals at acceptable temperatures in the heat of Bahrain.