Caterham gets front end overhaul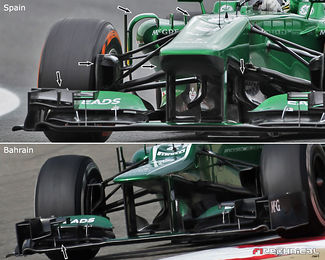 Caterham have introduced the second part of their major upgrade package for the CT03 which should help the team get ahead of Marussia again. Part of the update package was moved forward and introduced on Charles Pic's car in Bahrain, including the bulge under the nose, revised rear wing endplates and the new sidepod panels.
This time around, the focus was mainly on the front end, with a raft of updates aimed to help increase front downforce. The most obvious change of course is the vanity panel on the upper side of the nose which now hides the ugly step. Although this is likely to give only a marginal aerodynamic improvement, it's still a big improvement to the eye.
More importantly for the car's efficiency is the new front wing that finally ditches the unconventionally big stepped element, replacing it for a wider, shallower 2-element winglet similar to what other teams feature on their front wings. The main panels have also been revised, with notable changes on the inner edges and a smaller slot gap between the wing's base and the first flap.
Furthermore, the brake ducts have been revised to add a vertical fence that extends further forward and new turning vanes appeared under the nose, now more similar to the designs of Red Bull Racing and Ferrari.