Caterham CT03 Renault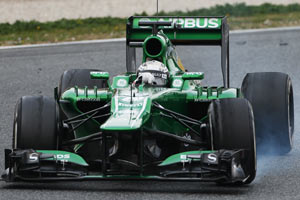 Active: 2013
Team: Caterham F1

Drivers: Charles Pic (20), Giedo van der Garde (21), Ma Qing Hua (reserve), Alexander Rossi (reserve)
Team: Mark Smith (TD), John Iley (Performance Director), Graham Watson (TM), Cyril Abiteboul (TP), Riad Asmat (CEO)
The Caterham CT03 is the second car fielded by the team under its Caterham name, but is not named CT02 because that is a road car project the team (not the F1 division) was already working on at the time. The car was launched in the pitlane of Circuito de Jerez at 8:30 local time, just ahead of winter testing that began half an hour later at the same track. It is also the first car produced at the team's Leafield Technical Centre, the move to which was completed during the 2012 season.
Caterham opted to evolove its CT01, focusing its resources "on developing areas of last year's package where opportunities would give us the greatest return, while also beginning work on the 2014 package".
Despite its visual similarities (apart from the changed livery that is featuring brighter green and less yellow on the car, Mark Smith, Technical Director of Caterham F1 Team claims there have been considerable developments: "We have made a number of significant changes to the CT01. Among the most obvious are around the lower chassis where the sidepods have been significantly undercut to improve airflow to the rear of the car. The diffuser, engine cover and cooling exits have also seen major changes and there are more subtle improvements to other areas of the car, such as the sidepod turning vanes and the lower tea-tray area. This is the package we will take to race one in Australia and as part of the 2013 upgrade program we will then bring new front and rear wings and a new diffuser soon after the start of the season.
At the front however, the car features little difference from its predecessor as the team opted to simply retain the frog nose, not opting in the modesty panel trend that would likely allow reduced drag and better airflow around the nose area.
One particular thing that the team tried to innovate with was the exhaust channel, featuring an internal blade at the launch and during the first tests. The FIA quickly moved to outrule that particular feature, forcing the team to drop it alltogether for the final winter test at Barcelona.

Specifications
Chassis material: Carbon Fibre
Bodywork material: Carbon Fibre
Front Suspension: Carbon Fibre suspension arms, push rod actuated
Rear Suspension: Carbon Fibre suspension arms, pull rod actuated
Dampers: Penske & Multimatic
Steering: Caterham F1 Team Gearbox: Red Bull Technology
Clutch: AP
Brake discs: Carbone Industrie or Hitco
Brake calipers: AP
Pads: Carbone Industrie or Hitco
Cooling system (radiators, heat exchangers): Caterham F1 Team
Cockpit instrumentation: MES
Seat belts: Schroth
Steering wheel: Caterham F1 Team
Driver's seat: Caterham F1 Team
Extinguisher system: FEV
Wheels: BBS to Caterham F1 Team Specification
Fuel cell: ATL
Fuel provider: Total
Lubricants provider: Various
Wheel base: More than 3000mm
Overall Length: Approx 5 metres
Overall Height: 950mm
Engine
Designation: Renault RS27 - 2013
Type: naturally aspirated, 90° V8
Capacity: 2400cc
Max rpm: 18,000rpm
Number of Valves: 32
Power Output: Approx. 750 bhp
Engine construction: Cylinder block in cast aluminium
Engine management: MESL standard control unit TAG320
Oil: Total Group
Weight: FIA minimum weight of 95kg
---
---