McLaren adopts bridged sidepod panel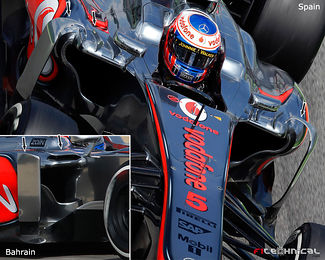 McLaren have pinpointed their problems of 2013 to a problematic correlation of wind tunnel data and struggling to get a persistent airflow around the Pirelli tyres, which are now flexing differently than last year. Jonathan Neale even likened their problems to those at Ferrari last year, saying the Scuderia people will surely know how it feel to be in the position McLaren is currently in.
As a first step to resolve some car problems, the team introduced a modified sidepod panel that now features a bridge to connect to the shoulder of the sidepod, similar to what can be seen on the Red Bull RB9 and by now on various cars. Although not perfectly visible on the image, the bridge is actually quite thin, with a much shorter chord than the vertical panel actually is.
In the same move, the vortex generators on top of the sidepod are back, reverting from the horizontal winglet that was copied from Lotus earlier this season.