Ferrari's high downforce Monaco package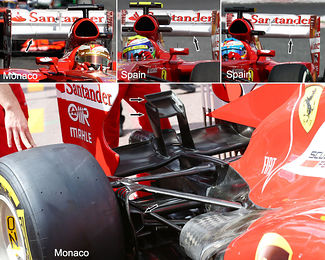 Although the aerodynamic differences are much more subtle than they were 10 years ago, teams are still bringing high downforce packages on their cars at Monaco. Ferrari is no different with a new monkey seat and high downforce rear wing. To indicate how the difference is in the detail, the rear wing used at Monaco is actually nearly identical as Massa's rear wing at the Spanish GP at Barcelona, a track that has a much higher average speed than Monaco. Fernando Alonso on the other hand used a lower downforce rear wing in Spain. The subtle differences can be found in the shape of the gurney flap and the leading edge of the main plane.
A new item on the F138 is the monkey seat, which is a very steep 2-element winglet. Teams make use of the central 15cm of the rear wing for such small additional elements to extract more downforce at the cost of some drag. While several other teams opted to use monkey seats also at lower downforce circuits, Ferrari so far did not use any such device this year.
Also note that Ferrari added an air inlet for the rear brakes, attempting to keep the brakes cool.