McLaren completes car upgrades at Monaco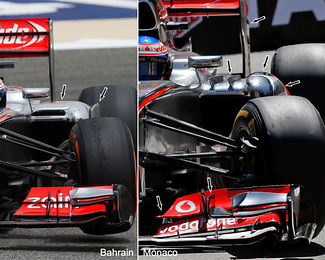 McLaren have effectively rounded completed their string of updates by running its new front wing at the Monaco Grand Prix. Following the introduction of a large number of performance updates, the front wing was brought in late on Saturday at the Spanish Grand Prix and was only tested in the final practice session.
At Monaco however, the MP4-28 featured all updates seen at Spain. Among those are a new rear wing which includes a curved endplate with strakes on the outside, similar to when Lotus was running at the beginning of the season. The sidepods have also undergone a major revision, with the upper side now lower down. This feature is very similar to the Mercedes F1W04 and was already copied by Lotus a few races ago. It allows better airflow towards the exhaust area, helping the exhaust gases to flow down onto the diffuser's edges. Along with this there is a new curved sidepod panel as well as the return of the vertical vortex generators above the sidepod air inlets, replacing the horizontal flow conditioner.
A final note goes to the front wing, which features more curvy panels, a modified flap adjuster and the removal of the vertical vortex generator in favour of an extension to the stacked element. All in all, the updates seem to work pretty well, as McLaren could easily keep up with the cars ahead at Monaco, and had it not been for an engine problem during qualifying, Button may have finished even higher up.