McLaren MP4-28 Mercedes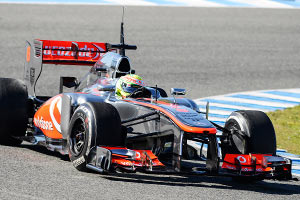 Active: 2013
Team: McLaren International Ltd

Team: Tim Goss (director of engineering), Paddy Lowe (TD), Neil Oatley (DRD), Martin Whitmarsh (TP), Jonathan Neale (MD), Sam Michael (SD)
Drivers: Jenson Button (5), Sergio Pérez (6)
The McLaren MP4-28 was launched at the team's headquarters in Woking on January 31 in a live event that was broadcast on youtube and included a display of some of McLaren's iconic cars in its 50 years of F1 history. Present were Jenson Button, by now the most experienced driver in F1, and Mexican Sergio Pérez who came over from Sauber to replace Lewis Hamilton who moved to Mercedes AMG F1.
A shakedown was completed at Idiada on February 2, before the team moved to Jerez to start winter testing on February 4.

The car itself is quite a big step from its predecessor as the team redesigned the entire monocoque to move the nose higher up. This meant creating a new chassis to move the front bulkhead up to the maximum allowed height and adding a nose that includes a non-structural upper part for aerodynamic benefits.
Another major design challenge for McLaren was undoubtedly the design of the front suspension featuring a pull rod, a feature copied from Ferrari who pioneered it the year before on their Ferrari F2012. The rear suspension is also a pull rod design, but that had already been the case on the MP4-27. The team did however follow Red Bull's example by merging the lower rear wishbone with the drive shaft into one shell, reducing the drag induced by the suspension arms.
The sidepods retain a similar shape, albeit with a little more downward slope towards the exhausts. Contrary to the Lotus E21 however, the new MP4-28 does not feature a Red Bull-style exhaust ramp, but instead a developed layout of what they ran during 2012 with the MP4-27.
The inlet of the sidepods changed as well, with the side impact structure extending a bit further ahead of the front of the sidepod. The feature is similar to what could be seen on the Lotus E20 and may provide aerodynamic benefits around the outside of the sidepods.
The car soon proved to be a disappointment for McLaren. In contrast to the race winning pace of its predecessor, the MP4-28 failed to make a big impression and it was usually a struggle for the drivers to qualify the car in the top 10. Long run performance was slightly better but as major update packages at the Spanish GP and later at the British GP failed to realise major improvements, the team gave up on its development and chose to redirect all its resources to the 2014 project. Several team members revealed throughout the year that the pull rod front suspension was a failure for McLaren. While the suspension itself was working reasonably well, the team underestimated the aerodynamic impact of the changes layout, requiring a complete overhaul of the entire aerodynamic concept of the rear of the car.
Specifications
Monocoque: McLaren-moulded carbonfibre composite incorporating front and side impact structures
Front suspension: Inboard torsion bar/damper system operated by pullrod and bell crank with a double wishbone arrangement
Rear suspension: Inboard torsion bar/damper system operated by pullrod and bell crank with a double wishbone arrangement
Electronics: McLaren Electronic Systems. Including chassis control, engine control, data acquisition, dashboard, alternator, sensors, data analysis and telemetry.
Bodywork: Carbon-fibre composite. Including engine cover, sidepods, floor, nose, front wing and rear wing. Driver-operated drag reduction system
Lubricants and fluids: Mobilith SHC™ 1500 Grease – lubricates the four tripod joints on the drive-shafts resisting the high temperatures generated by the exhaust and braking systems; Mobilith SHC™ 220 Grease – minimises rolling resistance in the car's ceramic wheel bearings to help maximise speed; Mobil SHC™ Hydraulic Oil – running at over 200 bar and 100° C this fluid is an essential part of the hydraulic system which controls gear shift, the throttles and operation of DRS and steering systems
Tyres: Pirelli P Zero
Radio: Kenwood
Race wheels: Enkei
Brake callipers: Akebono
Master cylinders: Akebono
Batteries: GS Yuasa Corporation
Steering: McLaren power-assisted
Instruments: McLaren Electronic Systems
Paint solutions: AkzoNobel Car Refinishes using Sikkens products
Transmission
Gearbox: McLaren-moulded carbon-fibre composite. Integral rear impact structure
Gears: Seven forward and one reverse
Gear selection: McLaren seamless shift, hand-operated
Clutch: Carbon/carbon, hand-operated
Lubricants: Mobil 1 SHC™ Gear Oil
Engine
Designation: Mercedes-Benz FO 108F
Configuration: 2.4l 90° V8, naturally aspirated
Maximum rpm: 18,000
Piston bore maximum: 98mm
Number of valves: 32
Fuel: ExxonMobil High Performance Unleaded (5.75% bio fuel)
Spark plugs: NGK racing spark plugs specially designed for Formula 1
Lubricants: Mobil 1 - combining greater performance, protection and cooling with increased economy and lower emissions
Weight: 95kg (minimum FIA regulation weight)
KERS: Supplied by Mercedes-Benz with engine-mounted electrical motor/generator. Integrated energy storage cells and power electronics
Image by James Moy Photography
---
---