McLaren continues with small updates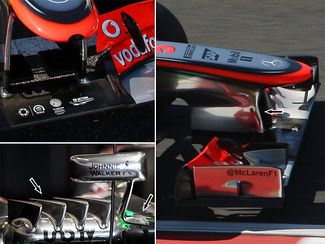 McLaren continue to add small updates to its car, possibly evaluating the effect of items with 2014 in mind. Already seen in Korea, the front wing had new pillars, moved back considerably. In fact the entire middle part of the front wing is new, along with the positions of the camera in between the pillars. Moving them backward meant that the team can better exploit the venturi effect that is being created by the long pillars, a feature that is rather common today in F1, as is the low down position of the camera housings.
On the sidepods the team added another turning vane, directing air outboard. The exact effects of this can be discussed about, but the vanes will certainly draw some air away from the cockpit area while each tip will induce a small vortex along the top of the sidepod, helping to energise the flow around the exhausts.