Williams experiments without Coanda, and finds car improved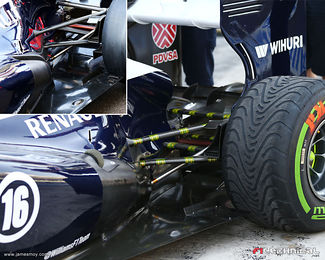 Williams started the Abu Dhabi weekend by fitting Pastor Maldonado's FW35 with a non-coanda exhaust configuration, trying to do some testing for 2014 where such an exhaust will be entirely banned. Even though the exhaust positions are not quite what it will have to be in 2014- where a single exhaust pipe in the centre of the car will be mandatory - , the team hoped that be removing the exhaust channel (inset) they would get more consistent readings that are not that much influenced by the exhaust flow.
While Valtteri Bottas was also trying some 2014 parts, the team and Pastor found such improvements in the package without Coanda exhaust that the team decided to fit both cars with this package for the remainder of the weekend.
The results do pose a few questions on what is really going on at Williams. It's also not clear whether the test at Abu Dhabi are the result of Pat Symonds' influence to the team, but at least now the team appears to have accidentally stumbled on one of the major culprits of their troubled FW35.
The thing is that Williams have never been able to get the Coanda exhaust perfectly right, and they have never denied it either. At the final pre-season test of the season, in March this year at Barcelona, the team also came up with a ramp style exhaust similar to Red Bull and Lotus. However, the team found it wasn't working as expected, forcing a return to the McLaren style Coanda exhaust. Strangely however, this had worked well for McLaren in 2012, but Williams failed to get it working entirely as predicted in the wind tunnel, suggesting that the team is currently struggling with wind tunnel to track correlation, as was Ferrari last year.
It's been well documented that the Coanda exhaust is difficult to simulate in a windtunnel, as the flow is generated by the engine, acting as a very powerful air pump pushing out hot gases. Pumping air through pipes within the wind tunnel model is difficult enough already, leaving alone that this air needs to be heated. If you consider that F1 wind tunnels are all closed circuit systems, a hot exhaust flow would increase overall air temperature within the tunnel very soon, making further tests impossible until the tunnel is cooled down again.
This complexity is exactly why many teams were seen on-track running pitot tube arrays and heat cameras looking to this area of the car in an attempt to really understand where the exhaust flow is going.
Essentially for Williams, it's obviously a good thing that they now found an important reason for their car's current performance, but whether this is reassuring for their ongoing development is another question.