Williams FW35 Renault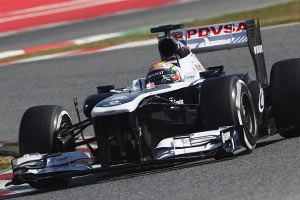 Active: 2013
Team: Williams F1

Team: Mike Coughlan (TD), Jason Somerville (HA), Ed Wood (CD), Xevi Pujolar (CRE), Dickie Stanford (TM), Frank Williams (TP), Alex Burns (CEO)
Drivers: Pastor Maldonado (16), Valtteri Bottas (17), Susie Wolff (reserve)
Williams F1 launched its 2013 race car the FW35, at the Circuit de Catalunya in Spain on 19th February 2013 after completing the first test of the winter with a modified FW34. A different nose cone and the new gearbox were both run with this car, displaying excellent reliability before getting the FW35 on track.
"Given the rule stability over the winter," says Williams Technical Director Mike Coughlan, "I'm pleased with the gains that we've been able to make with this car. It's a better, more refined Formula One car than the FW34 and I think everyone involved in the project can feel proud of the work they've done."
Despite being an evolution of 2012's car, more than 80 per cent of the FW35 is new. It has a new gearbox, new rear suspension, new radiators, a new floor, new exhausts, new bodywork, a new nose and a significant amount of weight has been saved as well.
Still, despite being launched later than other cars, the Williams FW35 underwent radical changes during winter testing. First, an exhaust channel bridge had to be removed after the first test as the FIA found it illegal, and on the penultimate day of testing, the team overhauled the sidepods to introduce an exhaust ramp, following Red Bull Racing and Lotus F1.
Specifications
Chassis construction: Monocoque construction laminated from carbon epoxy and honeycomb surpassing FIA impact and strength requirements
Front suspension: Double wishbone, push-rod activated springs and anti-roll bar
Rear suspension: Double wishbone, pull-rod activated springs and anti-roll bar
Transmission: Williams F1 seven speed seamless sequential semi-automatic shift plus reverse gear, gear selection electro-hydraulically actuated
Clutch: Carbon multi-plate
Dampers: Williams F1
Wheels: RAYS forged magnesium
Tyres: Pirelli, Fronts: 245/660-13, Rears: 325/660-13
Brake system: AP 6 piston calipers all round, carbon discs and pads
Steering: Williams F1 power assisted rack and pinion
Fuel system: ATL Kevlar-reinforced rubber bladder
Electronic systems: FIA SECU standard electronic control unit
Cooling system: Aluminium oil, water, KERS, and gearbox radiators
Cockpit: Six point driver safety harness with 75mm shoulder straps & HANS system, removable anatomically formed carbon fibre seat
KERS: Williams F1 battery, MGU and electronics
Dimensions
Weight: 642 kg, with driver, cameras and ballast (FIA Minimum)
Overall length: 5000mm
Overall height: 950mm
Overall width: 1800mm
Engine
Designation: Renault RS27-2013
Configuration: 2.4l V8
No of cylinders: 90° V8
No of valves: 32
Displacement: 2400 cc
Weight: 95kg
Rpm: 18,000
Fuel: TOTAL
Oil: TOTAL
Power output: approx. 750 bhp
Spark plugs: semi surface discharge
Ignition system: high energy inductive
Pistons: aluminium alloy
Engine block: aluminium alloy
Crankshaft: Nitrided alloy steel with tungsten alloy counterweights
Connecting rods: titanium alloy
Throttle system: 8 butterflies
---
---