Williams adopts central cooling funnel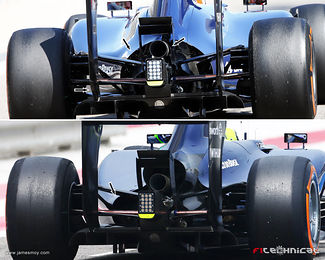 Williams have enjoyed several extremely productive testing days so far, and with the end of the tests nearing, the team is applying and testing new aerodynamic parts. One of the bigger upgrades fitted on the FW36 on Thursday with Bottas and Friday with Massa is the new rear bodywork featuring wider sidepod exits and a central funnel that blows hot sidepod air around the exhaust.
The team switched bodywork throughout the day for both drivers to be able to evaluate the new parts properly. It does not appear like Williams had to add more cooling as the car ran fairly reliably before the change of bodywork, but possibly they are simply anticipating races with high ambient temperatures.
It's interesting to see how the new bodywork has wider sidepod outlets and lacks a carbon cover over the exhaust pipe. Also note how Williams' rear wing lacks a central support, instead featuring endplates that extend down onto the diffuser to provide support.