Toro Rosso STR9 gets new nose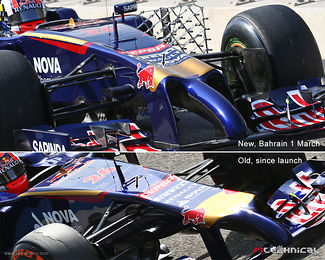 Toro Rosso have fitted a new nose cone on their STR9 on Saturday at Bahrain, the penultimate day of testing before the Australian Grand Prix.
It was always a bit odd to see two bulges on each side of the chassis and at the front bulkhead with the detachable nose cone then featuring an entirely flat upper profile. The new design however explains why the bulges were there, as the team now have a nose that features two high arches on each side of the "finger" extension. The arches are the result of further attempts to get more air underneath the nose and as such feed more airflow under the car and through the rear diffuser.