Sauber sheds weight with major car upgrade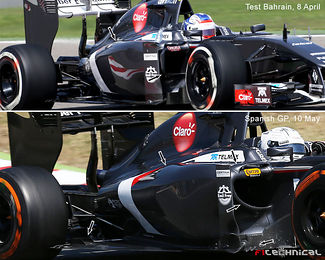 Among the many updates, Sauber have probably introduced the most comprehensive upgrade package of the entire field in Spain with a long awaited upgrade that is set to get the car down to the minimum weight limit. Word has it that the team's update reduces the car's entire weight by around 15kg, making sure that with Gutierrez behind the wheel, the car is now no longer overweight. For Adrian Sutil however that is still far from the case as the German is approximately 10kg heavier than his Mexican counterpart.
The team have been saying their first spec was a baseline and soon admitted it was considerably overweight. The team's limited budget however did not allow for faster development. As of the Spanish GP however, the team has repackaged the cooling system, although judging from the bulge on top of the sidepod, still with vertical cooling radiators. The result are considerably smaller sidepods with cooling inlets of a reduce size.
Along with these, the aerodynamic appendages on the floor, just behind the trailing edge of the sidepod have also changed. These will help control airflow at the edge of the car's floor and underneath it, attempting to get more rear downforce. Ahead of the rear wheels, two tiny vertical panels have also been added, a feature similar to Red Bull's design on the RB9 and aimed at managing tyre squirt.